PW meets at the church on the first Monday of the month at 1:00 PM 
(Meets September - June)
    ****************************
 Presbyterian Women's Covered Dish
 
Monday, December 1.  The meal will begin at 6:30 p.m.  Everyone attending is asked to bring a $5.00 gift and of course a covered dish. Everyone is invited.  Please sign up on the bulletin board if you plan to attend.  
 ****************************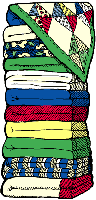 Water Street
Mission Project
     We will be collecting blankets for Water Street Ministry on Nov. 16, 23, Nov. 30 and Dec. 7.  If blankets are used they should be in good condition and clean. 
   We will collect socks, mittens and hats for all ages on November 30th or December 1st at the PW Covered Dish Dinner.  Questions see Edie Kurtz,  Mission Chair,  PW