Mission projects
Local Mission includes: Welsh Mountain Home, CROP Walk, Christmas gifts to children in need, Mom's Club and New Holland Food Bank to name a few.
Blankets +
These funds are used by CWS to provide kits and blankets globally and locally.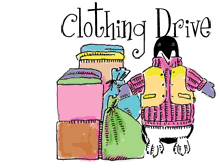 Is it time to clean your closets?
      PLEASE consider our clothing drive for the reuse-it shop in Lititz known as "Matthew 25"
     Verse 40 says "…inasmuch as ye have done it unto one of the least of these my brethren, ye have done it unto me."
     Items we can accept would include clean, useable, fall and/or winter clothing for all ages.  Examples would include hats, scarfs, gloves, sweaters, jackets, coats, men's and women's  suits,  and  clothing suitable for the work environment.
     We will be collecting items from Oct 12th – Nov 9th.  Boxes and racks will be available in the vestibule. It will be helpful if clothing such as suits and dresses be placed on hangers.
****************************************************************
 
 Childrens Mission Project: